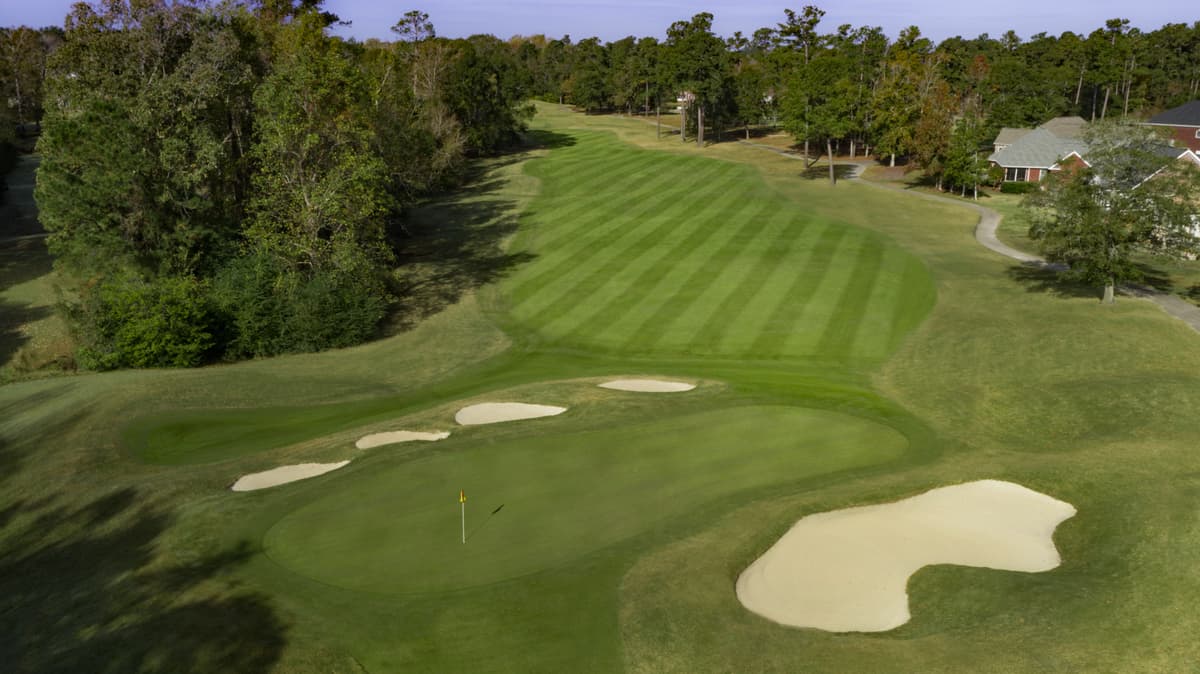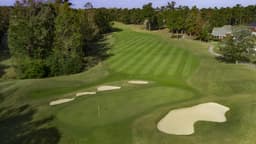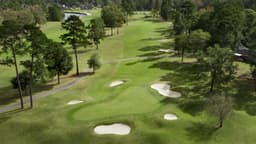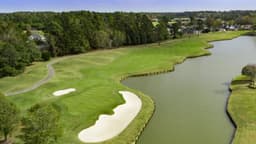 The Long Bay Club is a magnificent Jack Nicklaus "signature course" that is continually ranked among the top courses in the country. A great course is often described as one where the holes become etched in your memory. Long Bay is such a course. This is not a typical Nicklaus design. Deep pot bunkers and vast waste areas add a unique identity.
Long Bay Club: Jack Nicklaus' Unconventional Gem
Located just north of Myrtle Beach in Longs, Long Bay Golf Club is one of two elite courses along the Grand Strand that proudly bears the design label of "The Golden Bear," Jack Nicklaus. Like any course with Nicklaus' touch, its layout relies on the ability of players to think their way around the course rather than make hasty decisions.
Long Bay is situated amid forests of pines and maple trees aplenty. Winding streams are prominent on many holes, where an eclectic collection of wildlife congregates upon the banks. Hand-carved deep bunkers and man-made mounds make for a challenging round of placement golf, while small, tucked Bermuda greens add to the challenge. Measuring at more than 7,000 yards from the back tees, Nicklaus' course is anything but straightforward.
A cavalcade of undulating hills and unforgiving bunkers intensifies the challenge of a number of holes. While much of the mounding at Long Bay is man-made, Nicklaus was sure to incorporate the natural contours of the terrain into the construction of greens and fairways. Some of the more recognizable holes on the course are the par-4 No. 10 that famously showcases a conspicuous horseshoe waste bunker that wraps around an elevated fairway. Hole No. 13 is one of the more challenging par 3s along the Grand Strand featuring a compact island green surrounded by water.
It comes as no surprise, then, that Long Bay Golf Club continues to amaze more than three decades after its opening, as it is ranked among the top courses in South Carolina. Golf Digest highlighted the course in its "Places to Play" guide, awarding it 4.5 stars due to its captivating beauty and challenging layout. If you're up for the challenge of a "throwback" Jack Nicklaus design, this is the course for you.
Book a Package
You choose where you want to play and choose where you want to stay! Myrtle Beach offers nearly 80 Championship courses, and Condo-World brings you the Grand Strand's BEST accommodations from Oceanfront Condos to Golf Course Villas, North Myrtle Beach to Pawleys Island…we have all the ingredients for the PERFECT golf package! For the Best Selection use the Condo-World Connection!
Beachwood, Brunswick Plantation, Heritage Club, Heathland, Moorland, Parkland, Oyster Bay and Whispering Pines not available online. Please fill out a quote request or call 1-800-422-1587 for rates and availability.
View Details
The Founders Group International features over 20 premier designs of some of the most popular and well maintained courses throughout the Grand Strand.
View Details