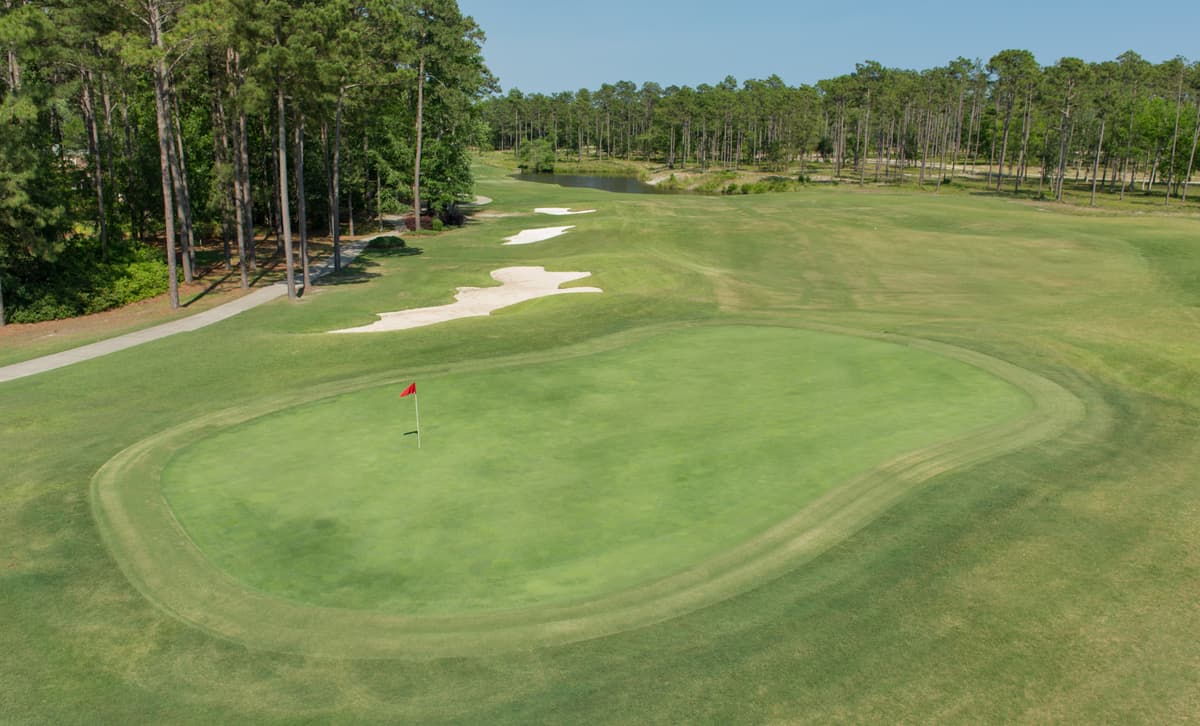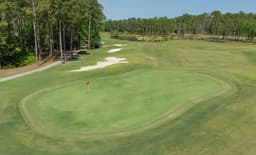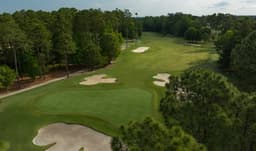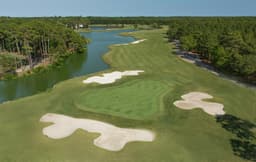 Tiger's Eye is an upscale course carved from a virgin pine forest. This course is distinguished by dramatic elevation changes reminiscent of the North Carolina sand hills. Tiger's Eye is a thinking-persons course requiring precision shot making and a reliable short game. This Big Cat is ranked among Golf Digest's "Top 100 Public Golf Courses in America" for 2007-2008.
Tiger's Eye: North Strand's Premier Course
Tiger's Eye put the Ocean Ridge Plantation on the national map. Tiger's Eye was architect Tim Cate's coming out party when it opened in 2000, and the layout was eventually ranked among America's top 100 public courses.
Making generous use of waste bunkers, locally harvested coquina boulders and water, Cate turned Tiger's Eye into one of the North Strand's best and most visually striking designs. Water factors into nearly every hole, as does sand, but don't let the threat of hazards scare you.
The hazards aren't overwhelming, often residing well off the fairway, so the course is eminently playable – a fact highlighted by five sets of tees that allow golfers to play from the optimal distance for his or her game.
Collectively, the par 3s at Tiger's Eye are among the best along the beach, led by the 11th hole, which plays to peninsula green surrounded by water. It's a tee shot that will make the best of players a little antsy, and No. 11 is the most photographed hole on the course.
While the par 3s attract a lot of attention, the par-4 4th hole might be the course's most fun. Playing 366 yards from the white tees, the dogleg left can be shortened considerably by players with the courage to challenge the dogleg, but water and sand will be there to punish wayward shots.
The par-5 15th hole represents the most daunting challenge at Tiger's Eye. The final 200 yards of the hole are surrounded by water on both sides, creating an anxiety-inducing finish to the 531-yard hole.
Tiger's Eye is one of the North Strand's premier courses, one that is worth going out of your way to play. The layout is incentive enough to play the Big Cats package but if you are picking and choosing courses individually, Tiger's Eye is worth a hard look.
Book a Package
You choose where you want to play and choose where you want to stay! Myrtle Beach offers nearly 80 Championship courses, and Condo-World brings you the Grand Strand's BEST accommodations from Oceanfront Condos to Golf Course Villas, North Myrtle Beach to Pawleys Island…we have all the ingredients for the PERFECT golf package! For the Best Selection use the Condo-World Connection!
Beachwood, Brunswick Plantation, Heritage Club, Heathland, Moorland, Parkland, Oyster Bay and Whispering Pines not available online. Please fill out a quote request or call 1-800-422-1587 for rates and availability.
View Details
The Big Cats at Ocean Ridge Plantation features 4 award winning and nationally recognized courses designed by Willard Byrd and Tim Cate and are all located in the Sunset Beach area of North Carolina.
View Details