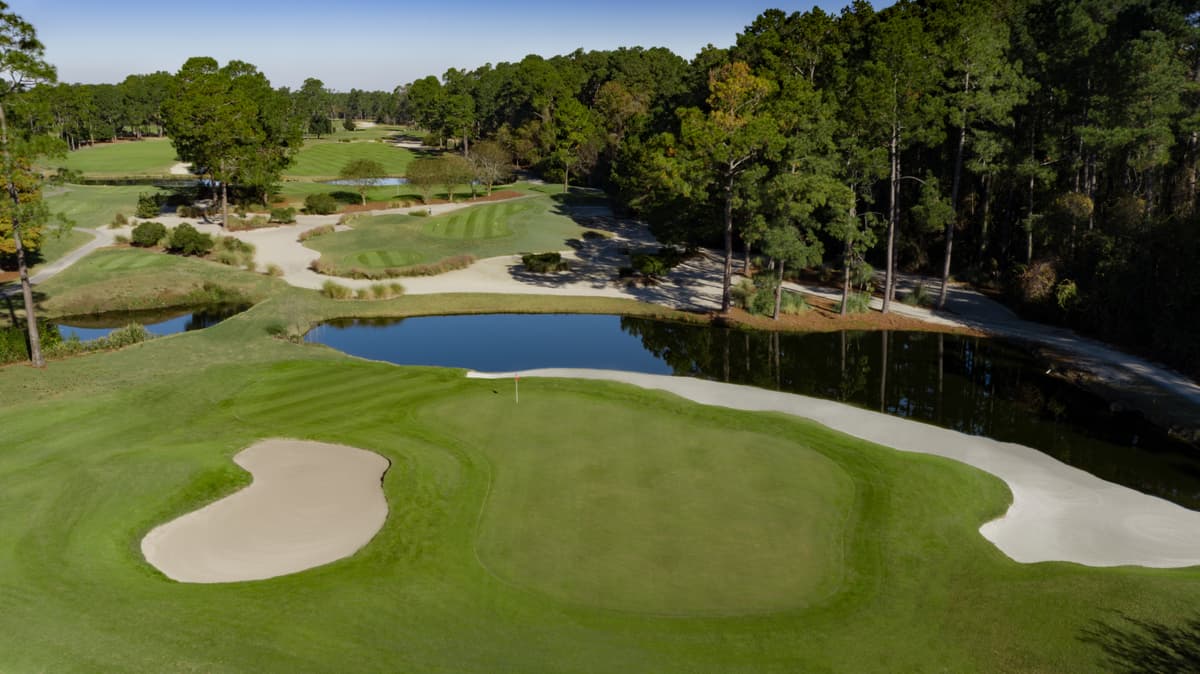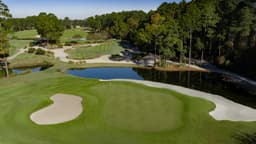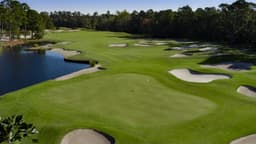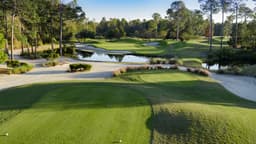 King's North features some of the most dramatic and unique holes in all of golf. The par-5, 6th hole nicknamed "The Gambler", features an island fairway which offers golfers a "risk-reward" short-cut to the green for a chance at eagle, but the two precise shots required bring to mind Kenny Rogers' song: "You've got to know when to hold 'em; Know when to fold 'em: Know when to walk away: and Know when to run."
King's North: An Arnold Palmer Masterpiece
Crafted by Arnold Palmer himself, King's North at Myrtle Beach National has been one of the most beloved golf courses along the Grand Strand since its opening in 1973. Compared to its neighboring courses, King's North extends beyond 7,000 yards and features a significant amount of water hazards and winding bunkers that can intimidate even the most seasoned golfers.
Known for its top-notch manicured fairways and greens, golfers will encounter a variety of tricky holes surrounded by large pines, lakes, and bunkers. The iconic design of the par-5 No. 6, also known as "The Gambler," is one of the most discussed and photographed holes in the Myrtle Beach area. The par-3 No. 12 is also highly discussed among golfers for its "SC"-shaped bunkers that both protect a small island green and pay visual homage to the Palmetto State. Hole 18, given the nickname "The Bull's-Eye," has a whopping 40 bunkers extending all the way from the fee box down to the green, making for a fascinating finish to your round!
King's North has received a generous number of accolades over the years, including recognition by Golf Digest's "America's 100 Greatest Public Courses" in 2004, Golf Digest awarding it with 4.5 stars in its "Places to Play" guide, and Golf for Women included King's North in its "Top 100 Courses in America" list from 2000-2004.
Along with enjoying a memorable round of golf at Myrtle Beach National, players will gain a history lesson upon entering the clubhouse. Accolades and memorabilia are displayed throughout, while a life-like statue is situated at the front of the clubhouse as a tribute to Arnold Palmer's legendary playing and course design careers. After completing your round at King's North, be sure to check out the other two renowned courses on property, SouthCreek and West Course. All three Arnold Palmer designs at Myrtle Beach National Golf Club add to any person's memorable golf experience!
Book a Package
You choose where you want to play and choose where you want to stay! Myrtle Beach offers nearly 80 Championship courses, and Condo-World brings you the Grand Strand's BEST accommodations from Oceanfront Condos to Golf Course Villas, North Myrtle Beach to Pawleys Island…we have all the ingredients for the PERFECT golf package! For the Best Selection use the Condo-World Connection!
Beachwood, Brunswick Plantation, Heritage Club, Heathland, Moorland, Parkland, Oyster Bay and Whispering Pines not available online. Please fill out a quote request or call 1-800-422-1587 for rates and availability.
View Details
The Founders Group International features over 20 premier designs of some of the most popular and well maintained courses throughout the Grand Strand.
View Details