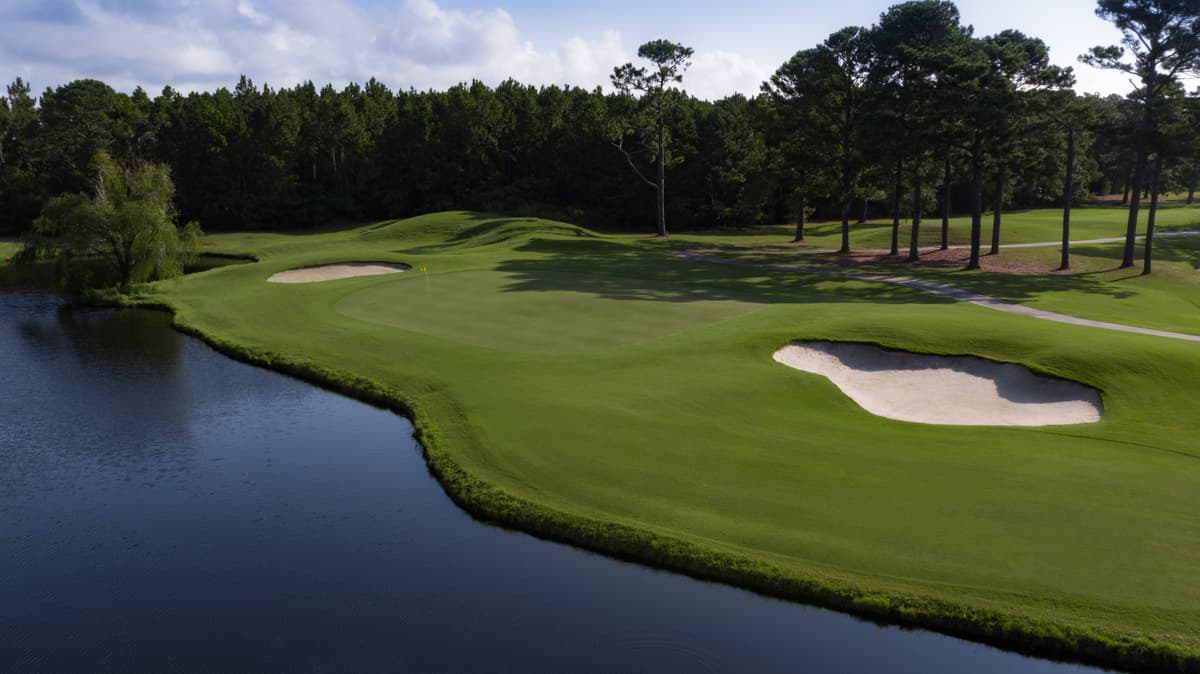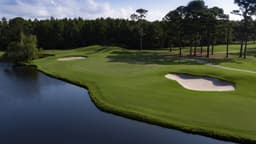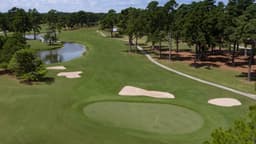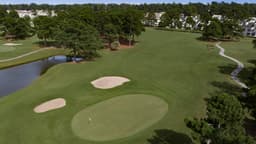 The PineHills course is the first and only design along the Grand Strand by award-winning architect Arthur Hills. It was formerly known as The Pines, but renamed PineHills in 1993, when Hills redesigned it. The PineHills course is routed along the same path as it's predecessor, but Hills skillful use of mounding and strategically placed water hazards gave the course a completely different feel.
PineHills: Where Every Hole Is a Test of Accuracy and Skill
One of the first-developed golf courses along the Grand Strand, Myrtlewood's championship-style PineHills course remains a masterpiece to this day. Designed by renowned architect Arthur Hills as "The Pines" in 1966, PineHills has since undergone two major renovations – one in 1993, which transformed the design into its current PineHills configuration, and another in 2018 highlighted by the installation of new Tif Dwarf Bermudagrass greens.
Similar to its companion Palmetto course, the layout features the strategic placement of bunkers and mounding to create beautifully crafted golf holes requiring intense concentration if you're looking to post a solid score. Accuracy is paramount, as contoured fairways leading up to tucked greens prove to be just as challenging to putt on as they are to chip to.
Nearly 400 yards shorter than its sister course, PineHills still extends more than 6,600 yards from the back tees to challenge the skill level of more seasoned golfers. You may want to bring an extra sleeve of golf balls before taking on this course, as many of its holes force players to navigate winding water hazards that stretch the length of the fairway, paired with a breeze that continuously rolls off the nearby Intracoastal Waterway. The finishing hole at No. 18 remains one of the most demanding par 4s on the course, a slight dogleg that rewards good ball striking but punishes those that stray too far from the fairway.
The convenient location of Myrtlewood's PineHills course attracts many players due to the short drive from the golf course to the entertainment hub of Myrtle Beach. Located only minutes away, the post-round opportunities offered along Highway 17 Bypass at Broadway at the Beach are endless. Whether it's a southern-style meal or shopping and entertainment you're seeking, this part of Myrtle Beach truly has it all. A marriage of affordability and first-class golf, the experience you'll encounter at Myrtlewood's PineHills course is unlike other offerings in the area, making it a frequent destination for locals and tourists alike.
Book a Package
You choose where you want to play and choose where you want to stay! Myrtle Beach offers nearly 80 Championship courses, and Condo-World brings you the Grand Strand's BEST accommodations from Oceanfront Condos to Golf Course Villas, North Myrtle Beach to Pawleys Island…we have all the ingredients for the PERFECT golf package! For the Best Selection use the Condo-World Connection!
Beachwood, Brunswick Plantation, Heritage Club, Heathland, Moorland, Parkland, Oyster Bay and Whispering Pines not available online. Please fill out a quote request or call 1-800-422-1587 for rates and availability.
View Details
The Founders Group International features over 20 premier designs of some of the most popular and well maintained courses throughout the Grand Strand.
View Details